Installation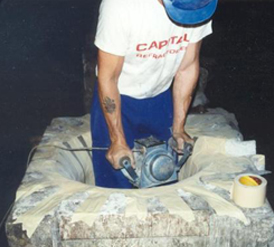 Capital's engineers have been installing induction furnace and ladle linings for over 40 years. Throughout the UK, Europe and Far East we personally undertake or oversee over 1000 induction furnace lining installations every year. We also, through our network of agents, supported and trained by Capital, are able to offer a responsive, comprehensive and competitive service to our customers, wherever their location.
Installation
Many refractory problems, including unusual wear patterns and metal penetration, are due to poor installation techniques. At Capital we pride ourselves on our technical expertise, gained through over 40 years of experience. We are able to advise, not only on the type of refractory material required for chemical and mechanical considerations, but also on the method of installation.
Operation
The life of a refractory lining can be severely affected by operating practices, Capital engineers are at your service to discuss how you might be able to extend the life of your furnace lining.
Repair
Finally, a well maintained refractory lining wil be safer and last longer, Capital can advise on repair materials and techniques. Click here for more details.